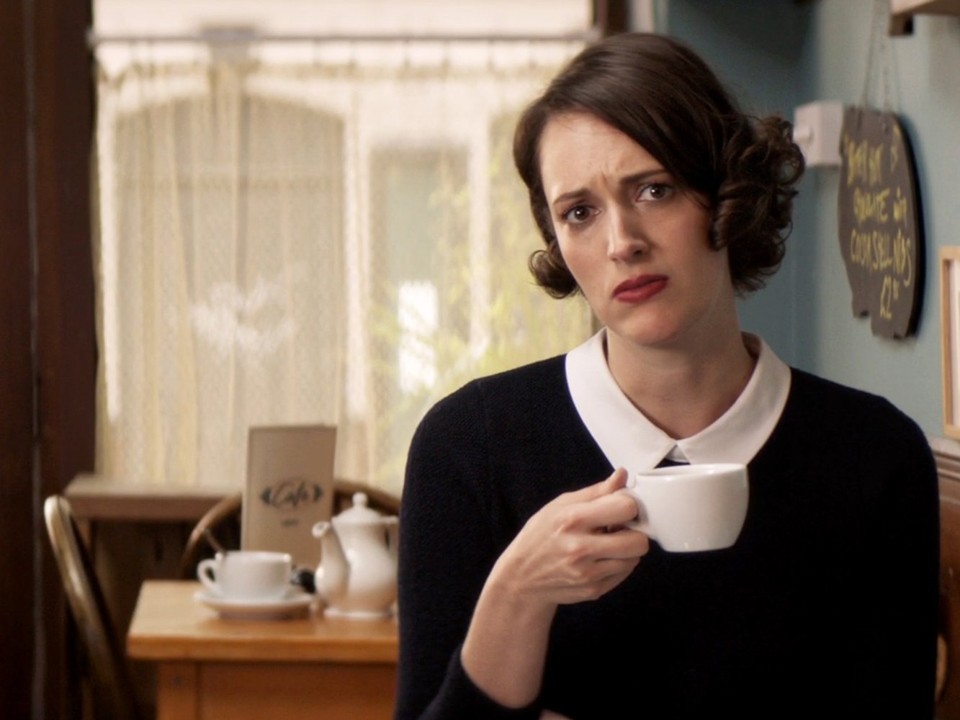 "Fleabag" is a thirty-something girl from London, single and quite lonesome. She struggles to keep her own cafe alive (a cafe dedicated to Guinea pigs).
She's selfish, cynical, greedy and nasty, and surrounded by a true dysfunctional family. Her mother has died of cancer, her sister is a frigid control maniac. Her father is incapable of showing any affection and is succubus to his new partner, a snobish, nymphomaniac artist.
Fleabag is a so-called antihero with a questionable moral behaviour, who fights her loneliness through sex, often unsatisfying or catastrophic sex (from premature ejaculation to impotence). She collects flirts with mediocre men, believing she is having them at her disposal, while she is the one being used and dismissed. She tries to fill her inner emptiness with several one-night stands, while she finds satisfaction only in masturbating to President Obama's speeches on YouTube.
There is something we don't know though, and that we will discover throughout the episodes: the psychological wounds of this girl are much deeper than expected. There is something she can't confess at first, something about her sexual addiction, a mistake that can't be fixed anymore. Something that took her best friend away forever, the only person she needed and she cared about.
Fleabag is a powerful story of a life broken by an irremediable mistake, that terribly hurts and brings taunting regrets. A life broken into pieces that nothing could bring together again. Fleabag has a pressing and desperate need for someone listening to her, someone who understands her. She looks for that someone right into the camera while she comments her life in real time, so energetically breaking the fourth wall, more than Frank Underwood himself. She looks toward the camera, at the audience, repeatedly commenting with words or even with nods and gestures only. They are always meaningful communication, even when made of silences and understatements.
Fleabag is a sadcom that brings the audience on the thin line between comedy and tragedy. You laugh, you think, and you reach the end of every episode with a bitter feeling that won't easily go away.
The series is written by Phoebe Waller-Bridge, Fleabag herself, born in 1985 and graduated by the Royal Academy of Dramatic Art. She co-leads a small theatrical troupe and, at the same time, she writes screenplays. After being part of the cast of Broadchurch, beside David Tennant, she wrote two sitcome: Chrashing for Channel 4 and Fleabag for BBC Three.
A comparison between Waller-Bridge's Fleabag and Lena Dunham's Girls is inevitable, in that both of the writers are witnesses of a generation. They are both superbly able to honestly tell about weaknesses and flaws of their own generation. Within their works they face the typical idiosyncratic relationship with the world, the struggle caused by the acceptance of social roles imposed to those who want to avoid isolation.
Lately Phoebe defined herself an "imperfect feminist", something similar to what many would use defining Lena Dunham. Nevertheless the differences between the two writers and actresses exist, as well as those between their characters. They are both outright and savage, but while Girl's Hannah lives in a continuous anxious condition that makes a control maniac of her, desperately believing she will finally get control of her own life, conversely Fleabag goes with the flow of life events, hiding and avoiding real decisions. And again, Hannah is spoiled and whimsical, exhausting melodramatic for small or trivial problems compared to what is faced by the messy Fleabag.
Should Phoebe Waller-Bridge being the British Lena Dunham, she has to be consider much more mature in her writing (despite her younger age), less blatant and patent than the American counterpart. Fleabag is much more akin to today's thirty-something women and men, frightened by an uncertain future, helpless because of their own mistakes, but aware of their weaknesses and ready to recoup. Because to err is human, we all know it, so says Fleabag to us by the season finale: "People make mistakes. That's why they put rubbers on the end of pencils.".